Last x-mas we spent the day in MI. We had x-mas dinner with my family. We actually went to my cousin's house - which was the house I grew up in (it was my parents' house then).
Dinner was delayed because my brother, his wife, and 3 year old daughter were for some reason delayed. I was so hungry. So hungry. A few times I announced, "I am soooo hungry..." My aunt - who was aware of our ttc endeavours - quietly asked, "might you be pregnant?" And I said, "no." Keep in mind it was 13 days past IUI#5. I don't know why I said no. I hadn't even tested. We had a funny mindset then though. We had been let down so many times that I think - depending on the day, the mood, the weather, whatever - it was either "no" or "yes." Mostly it was no.
I remember that it was our plan to just wait for the clinic's hcg blood test on 18 days past. That test would take place on a Saturday or a Sunday. But the clinic wouldn't call with the results until a full week (plus) after the test when they re-opened for the new year.
On the 26th we were back home in Ontario. It was that day that I started to have a little bit of a feeling that maybe just maybe... I managed to persuade a reluctant A to take me to the store for a test. It was after 6pm. Cold and dark. She was reluctant because she didn't want anything to ruin our holiday. She stayed in the parking lot and I went in. Later she said she'd closed her eyes for a second - when I was in the store - and visualised a light blue cross. (Which was funny because all the tests prior to the one I bought that night were the two /or one/ pink line variety - and in the store I'd decided to get the blue cross variety, unbeknownst to her).
At home, that evening, I peed on the stick.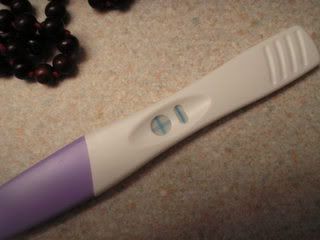 I watched it for a moment and then called A into the room. "Um... could you look at this?" My voice was cracking and quivering. In fact, as I write this I can feel the joy swelling up in my chest. We were stunned.
And then I think we mixed worry in with the joy and excitement. That is what the ttc process does to you. Or it did to me anyway. I knew too much. I knew what could go wrong. I was well into my second trimester before I could go with the flow.
Incidentally, my day 18 beta was 963. The clinic said that we didn't even need to check it again. An ultrasound was scheduled for January 20 (the day before A's birthday).
Now we have a little one - asleep in the other room. I suspect she is overtired from all the visiting over the past few days.